Machining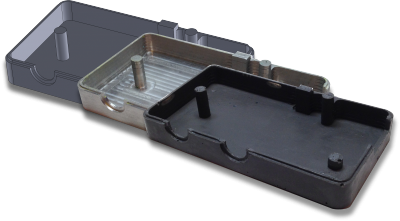 We offer production of mechanical parts even at the lowest quantities. On the picture you can see the preliminary CAD model, the milled aluminum master pattern and the final polyurethane cast. Using the aluminum pattern we manufacture a casting mold and then we can produce the final parts by casting polyurethane in the mold.
If you would like, we can produce an elegant housing for your electronics. The parts for the final enclosure will be drafted using 3D CAD software, and after agreement we start the manufacturing.
The front and side panels can be made in multiple thicknesses, the used metal sheets can be pre-anodized which gives a professional look to the finished product.
We can engrave any graphics, labels or symbols and we can fill the engraved areas with the chosen colour of paint.